4 Aug 2021
When you are relaxing and making memories at one of our amazing Tahoe vacation rentals, we have something to get you outdoors and feeling like you're on top of the world. Hike to the top vistas at Lake Tahoe this summer for stunning panoramic views and historic lookouts! Dip your toes in pools at Cascade Falls and learn the history of the area at the historic Stateline Fire Lookout on two of the best family-friendly trails in Tahoe! Get your heart racing with elevation gains and breathtaking views hiking to Maggie's Peaks in Desolation Wilderness for an epic day hike!
Cascade Falls
Dip your toes in WATERFALLS and POOLS at Cascade Falls! This 2.3km trail is beautiful from beginning to end with many vantage points of Cascade Lake, Emerald Bay and Lake Tahoe. It's shady for much of the hike without a lot of elevation gain making it an easy to moderate trail aside from scrambling over large rocks and small boulders. Take pics from the suspension bridge and pack  a big lunch for the family to eat at the end!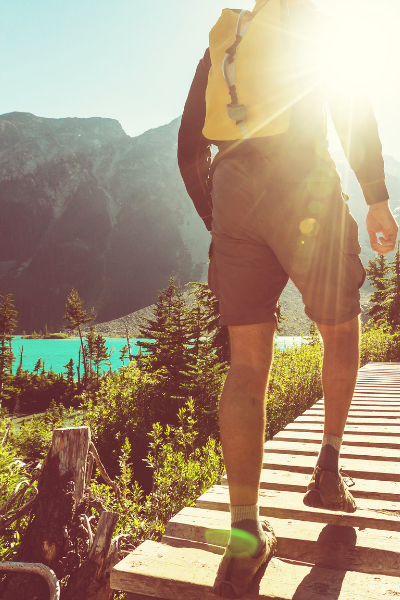 Stateline Fire Lookout
Explore HISTORIC Stateline Fire Lookout for a short, beautiful hike with great views of Lake Tahoe! Guide markers with historic information set the tone on this 2.7km trail with significant elevation at the beginning and a flat loop at the top. The entire trail is paved and has a restroom at the lookout making it an easy, family-friendly hike.
Granite Lake + Maggie's Peaks - Desolation Wilderness
Hike to stunning views at Maggie's Peaks in the Desolation Wilderness! This breathtaking vista will get your heart racing with elevation gains and panoramic views overlooking Cascade Lake and Tahoe rim's TALLEST PEAKS! Navigate through a dense pine forest and big granite boulders overlooking Emerald Bay before taking a snack break and a cool dip in Granite Lake. Then traverse rocky terrain to the summit for epic views of multiple lakes! This 6.6km out and back trail averages 3-4 hours roundtrip making it a great day hike for those wanting a challenge.