13 Apr 2021
Our guests visit from both near and far to experience all that the Tahoe, CA area has to offer. No matter the season, we want to offer our Tahoe Vacation Rentals family a getaway that they will remember for years to come, and something they can't wait to experience again in the future. With many great things to do to fill your time, you will have no trouble making the most of your trip. 
Exploring the great outdoors surrounding Tahoe isn't limited to the beautiful hiking trails, fishing, and sun bathing at Donner Lake. For those who are seeking an adventure, looking to try something new, and are ready for an exhilarating experience, look no further than river rafting.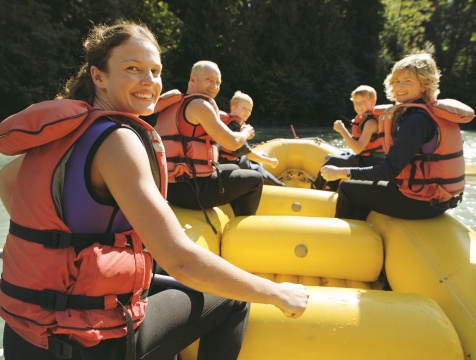 River Rafting in Truckee, CA
This exciting outdoor recreational activity uses an inflatable raft to navigate a variety of changing currents of the body of water being explored. While rafting on the Truckee River offers a relatively smooth and controlled experience, explorers of all ages and experience levels can expect to enjoy the tranquil waters that wind through the Truckee River. The adventure is just as great for those who would like to travel by boat or kayak.
Truckee River Raft Company, located in Tahoe City, provides a leisurely, self-guided, five-mile float down the Truckee River. Despite it's easier to navigate waters, adventurers can still expect the occasional surprise to challenge them and keep them on their toes. 
Top 5 River Rafting Packing Essentials 
Whether you plan to make it a day on the water or are only stopping by for a brief adventure, having these essentials packed with you will have you prepared for anything the day may bring:
1.) A life jacket
No matter the challenge of the rafting route you will take, safety comes first.
2.) A cooler
Stay hydrated and nourished during your time in the sunshine by packing some lunch for you and those joining you.
3.) Sunscreen
Don't let sunburn keep you from exploring all Truckee River has to offer.
4.) Quality water shoes
There may be times where you'll exit your raft and walk through the river to reach shore. You'll want to ensure your feet are well protected.
5.) A plastic bag for wet clothes
Trust us, you'll thank yourself for this one! Being able to place your wet clothes in a plastic bag keeps everything in one place until you return to your rental property (link here) to wash and dry. 
You're now prepared to make your river rafting experience one to remember! River rafting is a great family or personal activity that allows you to enjoy the sunshine and fresh air. Get out and explore all that is waiting for you outside of your Tahoe area vacation rental!